Taking a bath is often thought of as the ultimate self-care exercise. Health experts and wellbeing destinations constantly recommend using this soak as a time to unwind and relax. However, not every household is fitted with a bathtub and with the hectic pace of life, sometimes it's hard to find the time if you do. According to one study, more than half the population prefer a quick and functional shower over a bath, with 41% of us also showering every day. Wouldn't it be nice if such a regular routine became a luxuriously relaxing experience rather than a chore to keep us clean? Here's our guide on how to transform your daily wash into a moment of indulgence.
Set the scene
Start with your foundations. You need your bathroom to channel the energy you want to feel. If it feels at all clinical, basic or empty, it's time to elevate that space. According to Decorilla, bathroom trends for 2022 will be heavily influenced by Japandi style (a union of Japanese and Scandinavian styles). Simple additions could include bamboo baskets to organise your cosmetics, wooden accent stools and super soft linen accessories to add some neutral colours and, of course, to wrap up in after.
Adding some plants to your bathroom will breathe life into the space and transform it into your own mini oasis. Try hanging a bunch of eucalyptus in your shower too. Not only is this aesthetically pleasing, but the steam from the shower will activate the oils in the plant, allowing you to breathe them in. Inhaling eucalyptol has proven health benefits. Studies have shown it can help reduce anxiety, relieve pain and clear congestion.
Create the perfect mood
Who said candles were just for the bath? Ambient lighting is the easiest way to transform your bathroom into an at-home spa. One study by the university of Alabama reported that watching the flickering flame of a candle can actually lower your blood pressure.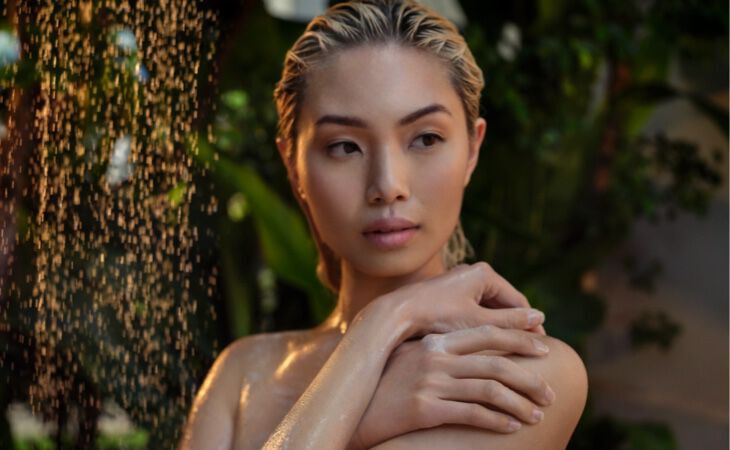 Pamper yourself with products
Arguably one of the best parts of a bath is being surrounded by mountains of bubbles. Create that same luxurious feeling in your shower by using a foaming shower gel. Unlike sugar scrubs that dissolve in the bath, salt granules will hang around, so your shower is the perfect place to use a salt-based scrub. Let that constant flow of water wash away the dead skin cells and leave you feeling silky soft and supple. Depending whether you like a fresh feeling or a deep nourish, opt for a cooling shower gel or a shower oil to add that extra bit of luxury to your cleanse.
Create a meaningful moment
Use your hair wash as an opportunity to treat yourself to a scalp massage. Brushing your hair before you get into the shower will make this easier. Start with the crown of your head and massage in circular movements. Spend a few minutes until you have massaged your whole scalp. Add the last note to your perfect mood with some music, a podcast or meditation. The echo effect of a bathroom is perfect for letting sound fill the space and losing yourself in that moment. Studies have shown that the optimum time for a shower is 8 minutes, anymore can start to rid your body of the essential oils it needs. Picking a meditation or playlist that lasts this long is a great way to stick to that timing. After your indulgent shower experience, make sure to moisturise. Doing this within 15 minutes of showering is the optimum time to lock in moisture and leave your skin feeling hydrated throughout the day.