During summer, our skin needs extra care, and this is where exfoliating comes in. It removes dead skin cells, stimulates the creation of new ones and makes your skin feel softer than ever. However, which type of scrub is right for you? And once you find this out, what is the correct way to use it?
WHY USE BODY SCRUB?
Simply put, exfoliating helps you feel better. It doesn't only cleanse your body, but it stimulates blood circulation and gives you renewed energy. But of course, there are many more reasons to exfoliate your body:
Fewer wrinkles. Due to the aging process, your skin loses its ability to renew or remove dead skin cells. When these cells accumulate, wrinkles and bumps can form on your skin. Exfoliating removes these cells and helps to delay the aging process.


Even smoother legs. You're about to shave your legs. But before you do, you should exfoliate them first. That way, there will be no dead skin cells to clog or dull your razor. After all, the sharper the razor, the closer the shave.


No more ingrown hairs. Ingrown hairs are a terrible nuisance—they cause red bumps and can even be a bit painful. When you exfoliate on a regular basis, you keep your pores free from dead skin, making it impossible for ingrown hairs to appear.


Makes your skin absorb products better. If you're using a cream, lotion or other products for your skin, it's helpful to exfoliate once or twice a week so that your skin absorbs the product better.


Get that tan faster (and keep it longer!). Exfoliating helps prolong your tan, clearing your skin to get the most from the sun.


Full relaxation. By adding exfoliation to your morning or evening regimen, you give yourself a few quiet, peaceful and relaxing moments throughout the week.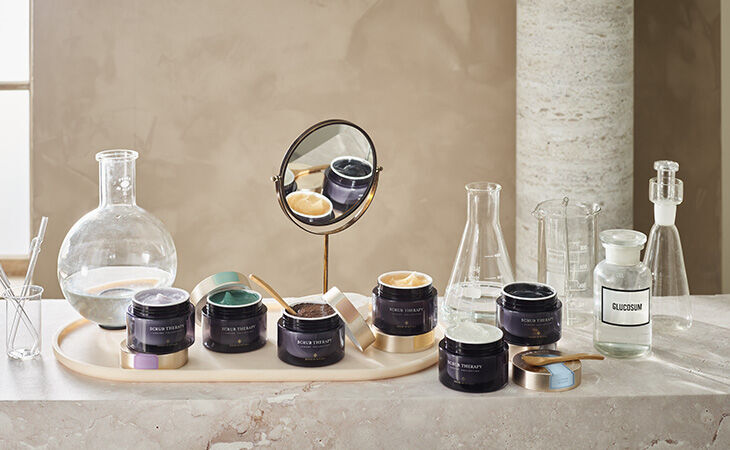 WHICH SCRUB IS BEST FOR MY SKIN?
Now that you know all about how scrub can benefit you, it's time to find out which type is best for you. A scrub with salt? Or a sugar-based one? Or maybe something less conventional, like rice or bamboo? Every scrub has its own benefits and different effects on your skin. You can make your choice depending on your skin type and its current condition.
This year, we launched an exclusive new Scrub Therapy Collection with new and improved formulations. Now carefully formulated with potent and rich ingredients from over 90% of natural origin, our scrubs are carefully curated to benefit your skin optimally.
On that note, let's go back to scrub school and see which scrub is best for your skin.
Dry skin? Try salt.
In ancient Egypt, it was indispensable when it came to beauty routines: salt. Egyptian women used it in combination with olive oil or almond oil – which are rich in vitamin E—to rejuvenate their skin. The salt has a restorative and disinfecting effect, stimulates skin cell renewal, helps even out your skin tone, works as a detoxifying and softening agent and allows creams and oils applied afterwards to penetrate deeper into the skin. It can also help smooth the bumps on the back of your arms and legs that appear when your pores are clogged. Another benefit of salt is that it keeps moisture in balance, keeping your skin hydrated and helping you get rid of dryness.
If you suffer from really dry skin, you can't go wrong with the body scrub from The Ritual of Jing with coarse sea salt crystals or the new Scrub Therapy Choco Loco body scrub.
If you prefer a more floral scent, try The Ritual of Ayurveda body scrub, featuring a carefully formulated base blend of rich oils and Punjabi pink salt. The rock salt is mined in Punjab, which has a purifying and rejuvenating effect for inner balance and vitality. The potent sweet almond shell particles help to buff away dead skin cells for a softer and smoother feel. The scrub also leaves an ultra-nourishing, thin layer of rich Ayurvedic oils behind including sweet almond and coconut oil – rich in vitamin E – to protect the skin, as well as moringa oil to promote a natural healthy glow. And remember, the ancient and celebrated queens of ancient Egypt swore by these oils.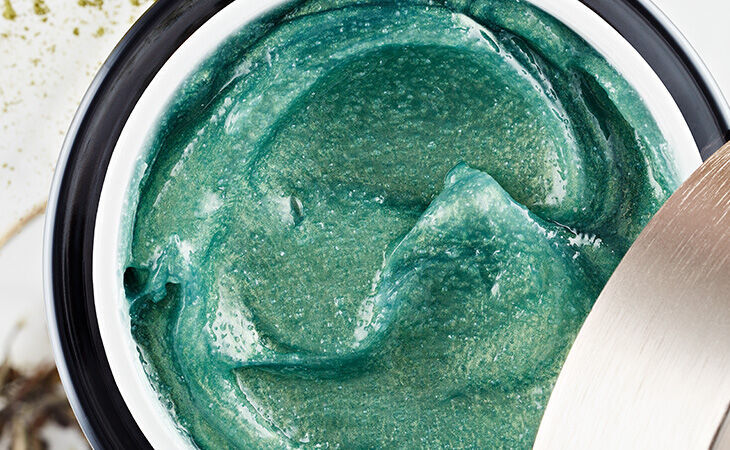 Sensitive skin? Go for sugar
If your skin is sensitive, it's better to choose a sugar-based scrub. This type of scrub is softer, as sugar particles are less coarse than salt particles and thus gentler on the skin. The ancient Romans often washed themselves with a blend of sugar, honey and milk.
By using a sugar scrub, you're renewing your skin in a natural way and – especially when combined with this indulgent blend of white lotus, sunflower and coconut oil and vitamin E in the new Scrub Therapy Lotus Frost body scrub gently buffing away dead skin cells, leaving your skin silky soft and glowing. Because of the added oils, you're able to scrub more intensely without irritating your skin.
Our mild scrub clay from The Ritual of Karma, is specially developed for sensitive skin and can be used more often during the week thank to its soft base. Composed of 94% ingredients of natural origin with ultra-fine bamboo particles and kaolin clay, the scrub gently yet effectively removes dead skin cells and hydrates the skin. Kaolin clay gently sloughs away dull and dead skin cells, absorbs impurities (making it an ideal choice for spot-prone skin too) and leaves the skin feeling super soft. The paste-like base promotes the absorption of valuable active ingredients.
Normal skin? Try them all.
No really, you can't go wrong with any of the new formulas we've got on shelf for you. All the formulas are soft on the skin and created with purely skin-beneficial ingredients. Just pick your favourite! But remember, as much as you may enjoy your scrubbing routine, it's important to limit it to 1-2 times per week. Otherwise, you might actively irritate your skin instead of nourishing and soothing it.
Super dry or damaged skin? Try rice, bamboo, herbal, grains, fibres, nuts and seeds
Some scrubs have less common ingredients, like rice, cellulose particles, bamboo, herbal elements or natural exfoliants like fruit fibres, ground nut shells or seeds These tend to come jam-packed with antioxidant and moisturising benefits, so they are perfectly suited for excessively dry or damaged skin. All our scrubs are infused with a nourishing oil layer and essential minerals that help care for all types of skin – a simple rinse ensures these vital ingredients aren't washed off and can take their time to penetrate the skin.
You'll find cherry exfoliant, rice bran and Japanese oils in The Ritual of Sakura body scrub, to make your skin softer than ever.
How to do it
But how do you do it? Simply follow these steps.
Make sure the scrub is applied to damp and clean skin. It's best to soak the skin for about 5 to 10 minutes.
Turn off the shower. Use gentle, rotating movements to massage it into your skin for another 5 to 10 minutes.
Rinse your skin off with warm water or take a long bath for even softer skin.
Lock in moisture with a hydrating cream or lotion.
There you have it—everything you always wanted to know about exfoliation. Join the club of scrub and you'll notice that your skin has never felt softer or looked healthier.