If the weather's been getting you down, then tonight's dinner calls for a hearty ramen soup. It's comfort in a bowl with buckwheat ramen, bok choy and shiitake mushrooms. Prepared with pan-fried tofu and a spicy hoisin sauce, this is one bowl of deliciousness that will warm your body and soul from top to toe.
INGREDIENTS
Serves 4 people
Preparation
1 hour and 10 minutes, (simmer for 50 minutes)
SOUP
3 tbs coconut or olive oil
1.5 litre water
3 vegetable stock cubes
4 cm ginger, peeled and sliced
3 garlic cloves, finely chopped
3 tbs soy sauce or Tamari
8 dried shiitake mushrooms, cut in slices
1 packet of buckwheat (soba) noodles (250 g)
Coconut oil for frying
100 g bimi, cut the thicker stems in half, length wise
2 baby bok choy, washed and cut in length and in 4 pieces
2 tbs soy or Tamari sauce
2 tbs hoisin sauce
100 g fresh shiitake, sliced
200 g tofu with the liquid pressed out using kitchen paper and 2 cutting boards. Cut in slices of 0,5 cm.
TO GARNISH
A generous handful of coriander, only the leaves
Red or green pepper in rings, optional
Sambal oelek, also optional
4 sliced radishes
1 carrot, peeled and julienne cut into strips of about 7 cm (black) sesame seeds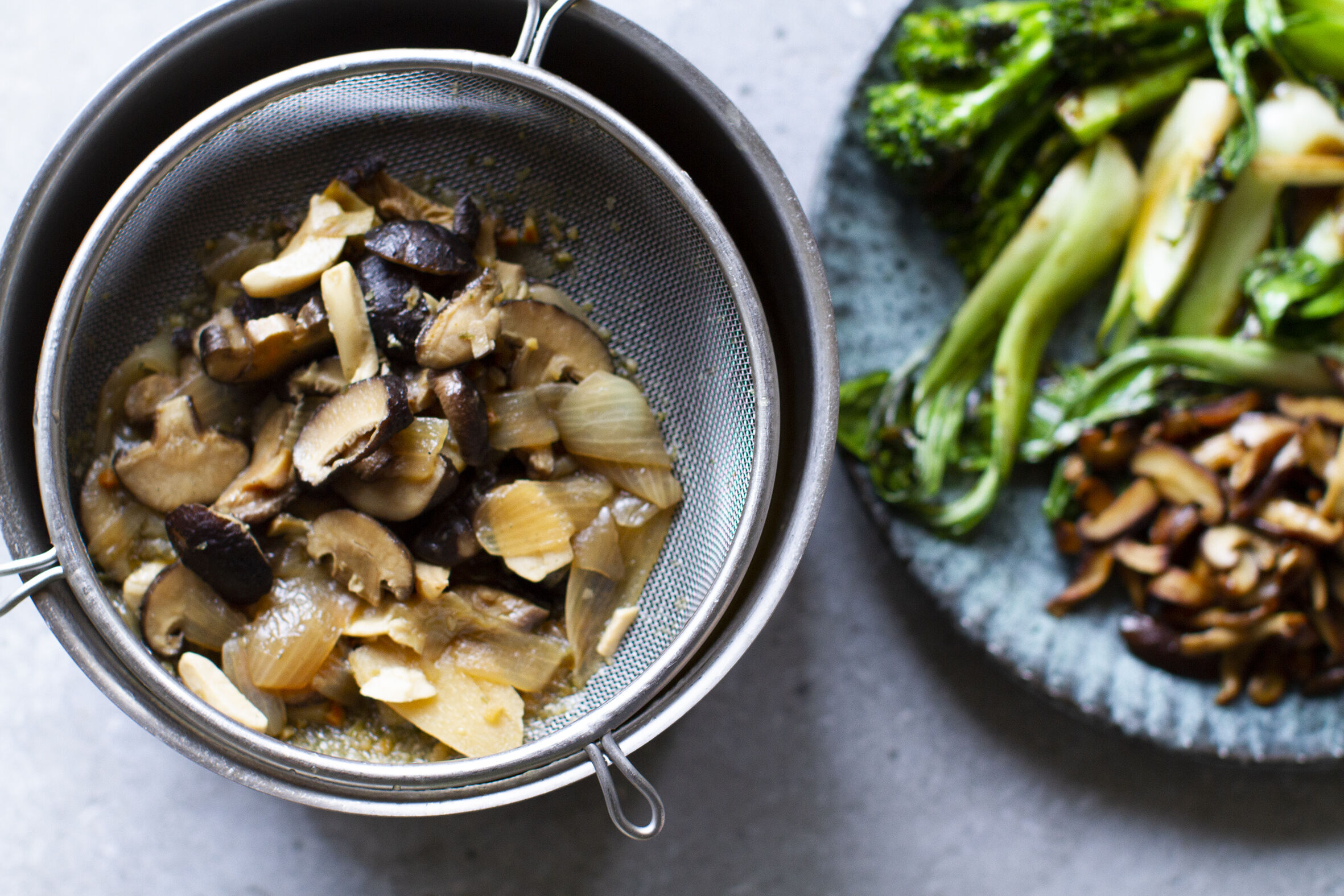 PREPARATION
Have all vegetables cut and ready.


Heat a thick-bottomed skillet and pour 3 tbs coconut oil into the pan. Add the onion, garlic and ginger and cook for 5 minutes while stirring.


Add the 3 stock cubes, 1.5 L water, the dried shiitake and 3 tbsp soy sauce or Tamari.


Bring to boil, turn the heat down low and place the lid on top. Let it simmer gently for 50 minutes.


In the meantime, cook the soba noodles as indicated on the packet. Then rinse them well with cold water to stop them from overcooking and falling apart.


Use a spoonful of coconut oil to stir fry the bimi over high heat. Keep a close eye on them, they'll be tasty with a little bit of char on it, but they shouldn't become soft. After 2 minutes, drizzle a tablespoon of Hoisin sauce over it and leave them on the hob for a few minutes longer. Remove them from the pan and set to the side.


Wash your pan and use another spoonful of coconut oil to fry the bok choy over high heat. make sure to stir every now and then. When they start to turn darker after a minute or two, drizzle 1/2 tbsp soy sauce or Tamari over it. Fry a little longer and then set them aside with the bimi.


Do the same with the shiitake: wash your pan, heat a tablespoon of coconut oil and fry the shiitake until it starts to change colour and become a bit crunchy. Do this for at least 5 minutes. Drizzle another half a tbsp soy sauce or tamari. Fry a little longer and place with the other vegetables.


Repeat the same with the tofu: use a clean pan and use some coconut oil to bake the tofu. Bake on each side for 1 minute on high heat and add one tablespoon of hoisin sauce and one tablespoon of soy sauce. Bake a few minutes until crispy – but not burned – and take the tofu out of the pan.


Drain the soup through a colander and collect the stock in another pan.


Divide the soba noodles over the bowls, pour the hot soup over them and garnish with all the fried and raw vegetables and don't forget to add the tofu.


Garnish with some sesame seeds and fresh coriander. Serve with sambal oelek.


Enjoy your meal!