Soup is the ultimate comfort food. But people in-the-know are also aware that it can be just as comforting to prepare them. Because they take a while to simmer and fill your house with amazing smells, they're perfect for slowing down and cooking mindfully. These four recipes are very different from one another, but they're all equally at home in a soulful kitchen.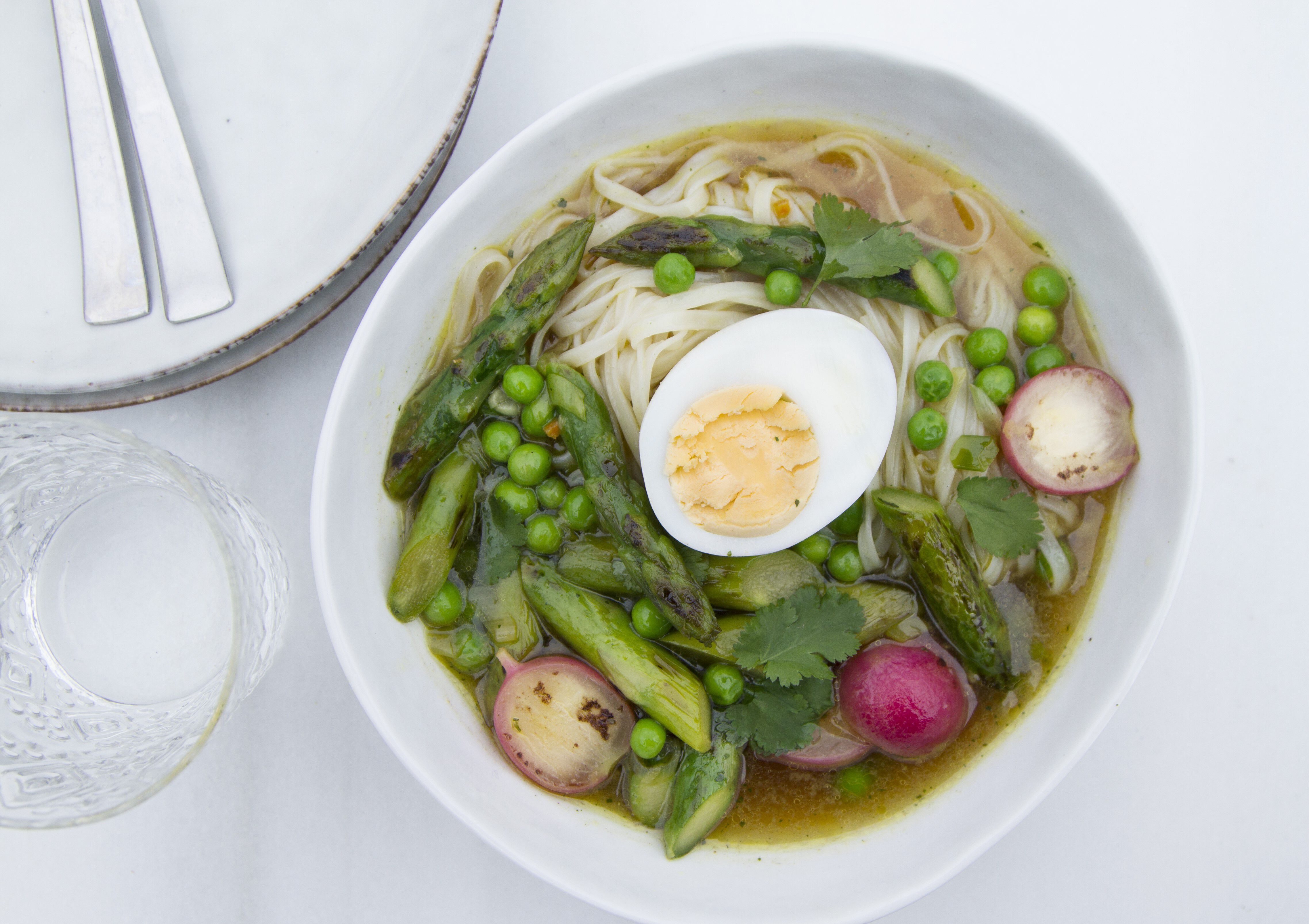 Rice noodle soup with green asparagus & egg

This soup is an ideal first course and makes an excellent addition to your dinner. Besides being seasonal and delicious, asparagus is also packed with antioxidants and loaded with nutrients. Accompany your soup with some vegetarian steamed dumplings.


Recipe for 4 people
Preparation time: 20 minutes
Ingredients
1.5 L vegetable bouillon made with 3 cubes
200 g (dry) rice noodles
2 eggs
3 tsp freshly grated ginger
8 spring onions cut into thin rings
2 cloves of garlic in wafer-thin pieces
4 tbs olive oil, divided
6 tbs soy sauce
500 g asparagus
8 radishes, halved
150 g frozen peas
large handful of coriander for garnish
small red peppers cut into thin rings


Preparation
1. Make the bouillon and boil the rice noodles as instructed on the package. Boil the eggs for 8 to 10 minutes until hard.
2. Heat the olive oil in a pan and stir in the ginger, spring onion and garlic and cook on a low to medium fire until they become glassy, about five minutes. Add it to the bouillon and then add 6 tbs of soy sauce. Bring it to a boil and let it simmer on a low heat while you prepare the rest.
3. Cut the hard ends off of the asparagus and slice the rest into pieces of about 4 cm. Stir the asparagus together with the halved radishes on high heat in 2 tbs of olive oil until they being to colour. Add them to the bouillon, bring it to a boil again and cook it through for another minute.
4. Divide the noodles into 4 bowls and pour the soup with vegetables over them. Place half of an egg in each bowl and garnish with coriander and red pepper to taste.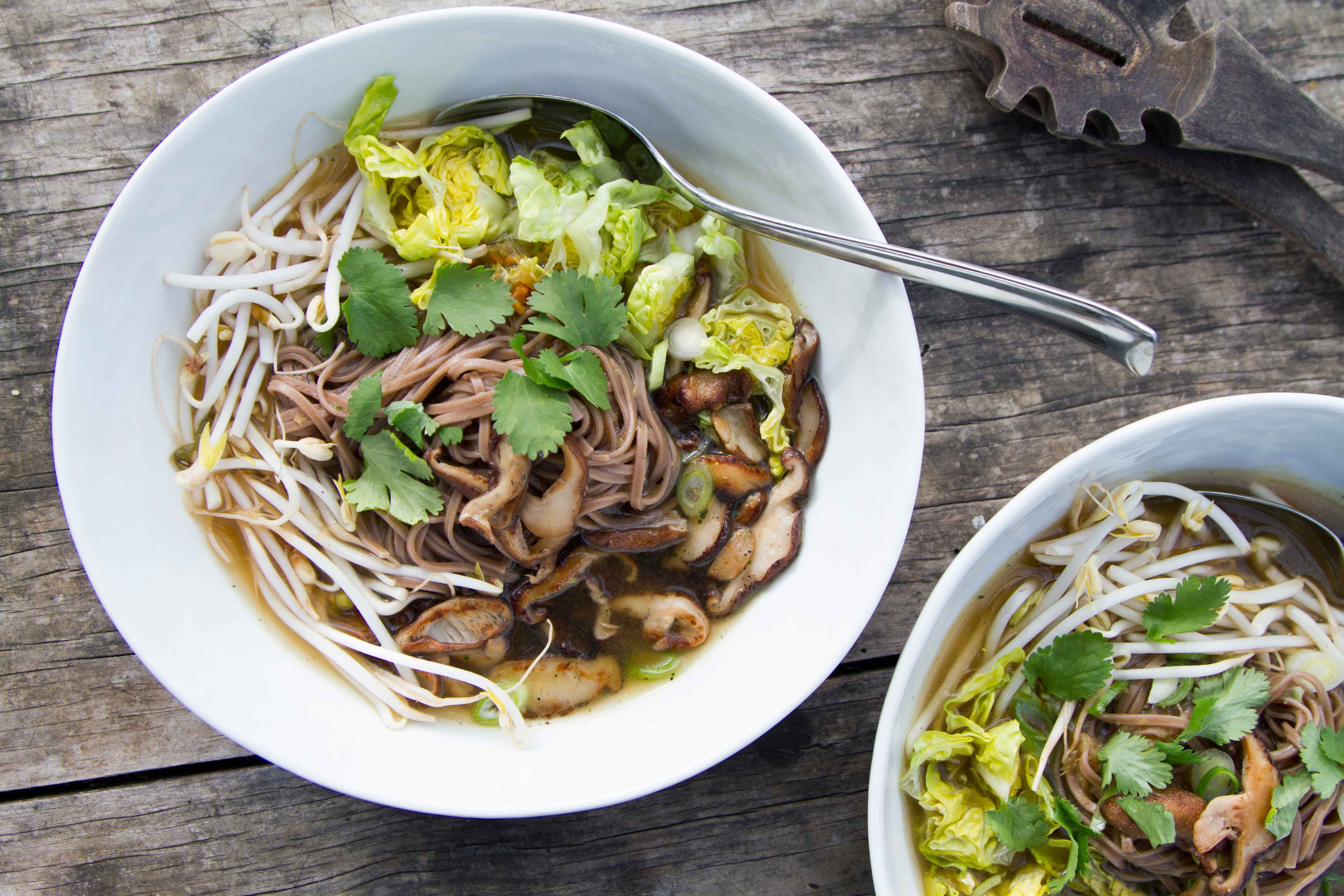 Japanese soba noodle soup with shiitake mushrooms
Little gem is a lesser-known type of lettuce that most resembles romaine. It is sweet and compact and adds extra texture to this Japanese-inspired soup. Shiitake mushrooms have a meatier texture than most mushrooms, making them more filling.
Recipe for 2 people
Preparation time: 20 minutes
Ingredients
100 g soba noodles
700 ml water
1 cube vegetable bouillon
1 heaping tsp grated ginger
3 tbs soy sauce
1 tsp Chinese 5 Spice
100 g shiitake mushrooms
1 tbs olive oil
pepper and salt
two small handfuls of bean sprouts
1 to 2 heads of little gem lettuce in thin slices, cut lengthwise
a small handful of fresh coriander, just the leaves

Preparation
1. Prepare the soba noodles as instructed on the package. Rinse them thoroughly with cold water and let them rest a while.
2. Heat the water, add the bouillon, grated ginger, the soy sauce and the Chinese 5 spice and bring it to a gentle boil.
3. Meanwhile, slice the shiitake mushrooms into slices and cook them in the olive oil until they start to colour nicely. Season with salt and pepper to taste.
4. Arrange the noodles, shiitake mushrooms, the little gem lettuce and the bean sprouts into a nest in the dish and pour the boiling bouillon over it. Garnish with the coriander and serve immediately.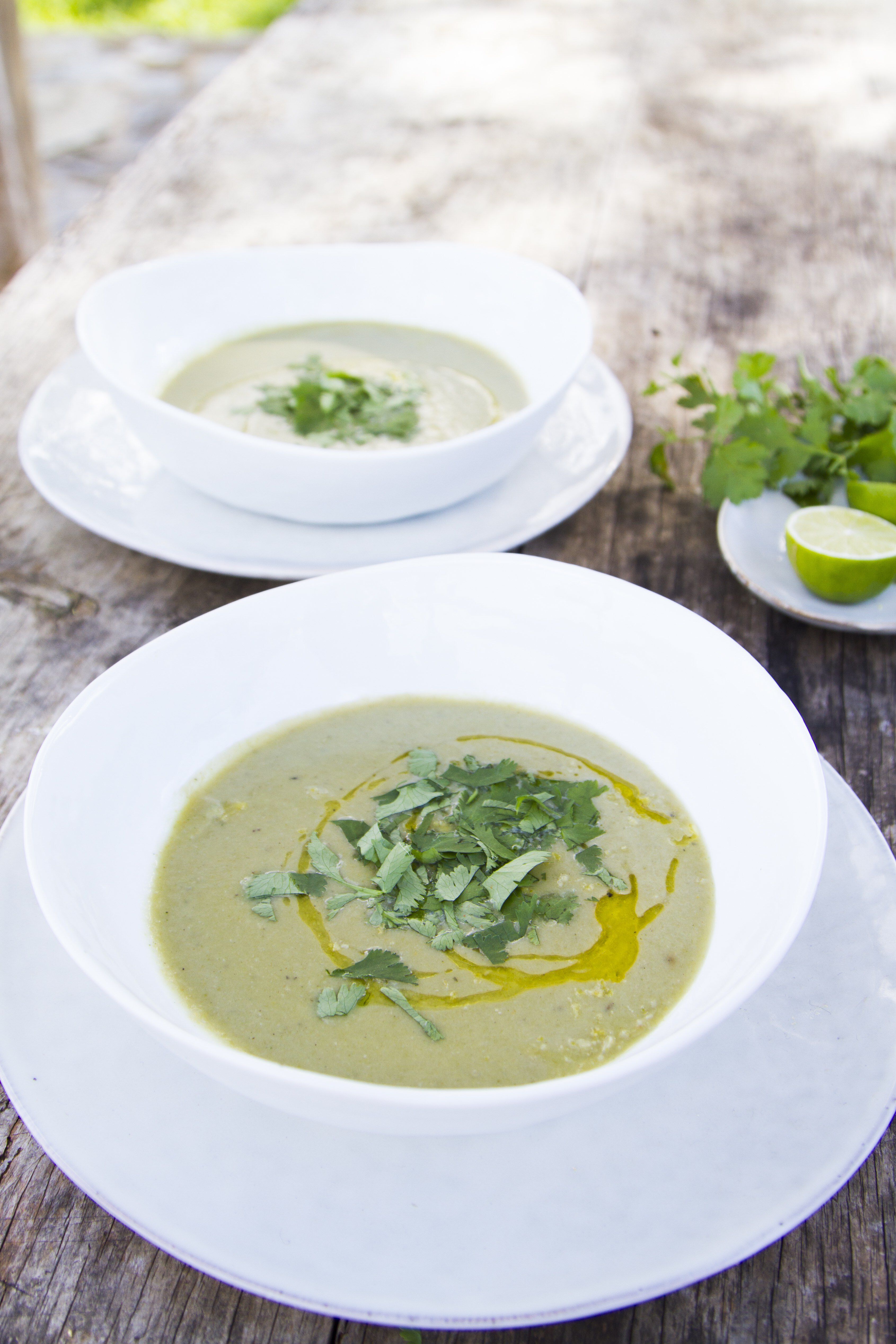 Thai Green Snow Pea Soup
When you're craving Thai flavours, there's nothing more satisfying than a bowl of green snow pea soup. Delicious, healthy and surprisingly easy to make.
Recipe for 4 people
Preparation time: 20 minutes
Ingredients
400 g snow peas, cleaned
2 tbs mild olive oil
1 white onion, diced
2 cloves of garlic, cut in thin slices
2 tbs fresh ginger, finely chopped
600 ml vegetable bouillon made with 3 bouillon cubes
400 ml coconut milk
4 lemon leaves
zest of 1 lime
juice of ½ lime
1 large handful of coriander to garnish
1 tsp salt and freshly ground black pepper

Preparation
1. Heat up the oil and fry the onion for a couple of minutes before adding the ginger and garlic. Stir this for a few minutes.
2. Add coconut milk, lemon leaves, lime zest, vegetable bouillon and the snow peas. Let this simmer in a covered pan for 10 minutes.
3. Remove lemon leaves and puree the soup. Strain it through a coarse strainer to remove the last strings from the snow peas.
4. Add salt and pepper to taste, along with the lime juice. Garnish with a dash of extra virgin olive oil and finely sliced coriander to taste.