This dish has been an absolute winner in our household this summer! It looks spectacular, and the flavours are amazing.
I've been a vegan for the past year, but I am using eggs in this recipe, only because I find that making vegan pancakes can be quite tricky. In this case, free-range or organic eggs do the trick!
The traditional Peking Duck is usually served on thin pancakes made from rice flour, but this version has a little more body – say goodbye to hunger pangs later in the evening – and is just simply delicious! I'm using the oyster mushroom to replace the duck, and wow what a fantastic sub it is – works perfectly in a vegan shoarma too – this dish is absolutely worth trying. You can take it to the bank, believe you me!
Ingredients
12 servings
(about 15 cm in diameter) – preparation time: 40 minutes
FOR THE PANCAKES
240 gr wholewheat or white flower (240 gr is 1 cup)
3 small or 2 large free-range or organic eggs
400 ml (plant-based) full milk
½ tsp salt
1 tbs olive oil
Mix all the ingredients together and blend until your batter is smooth.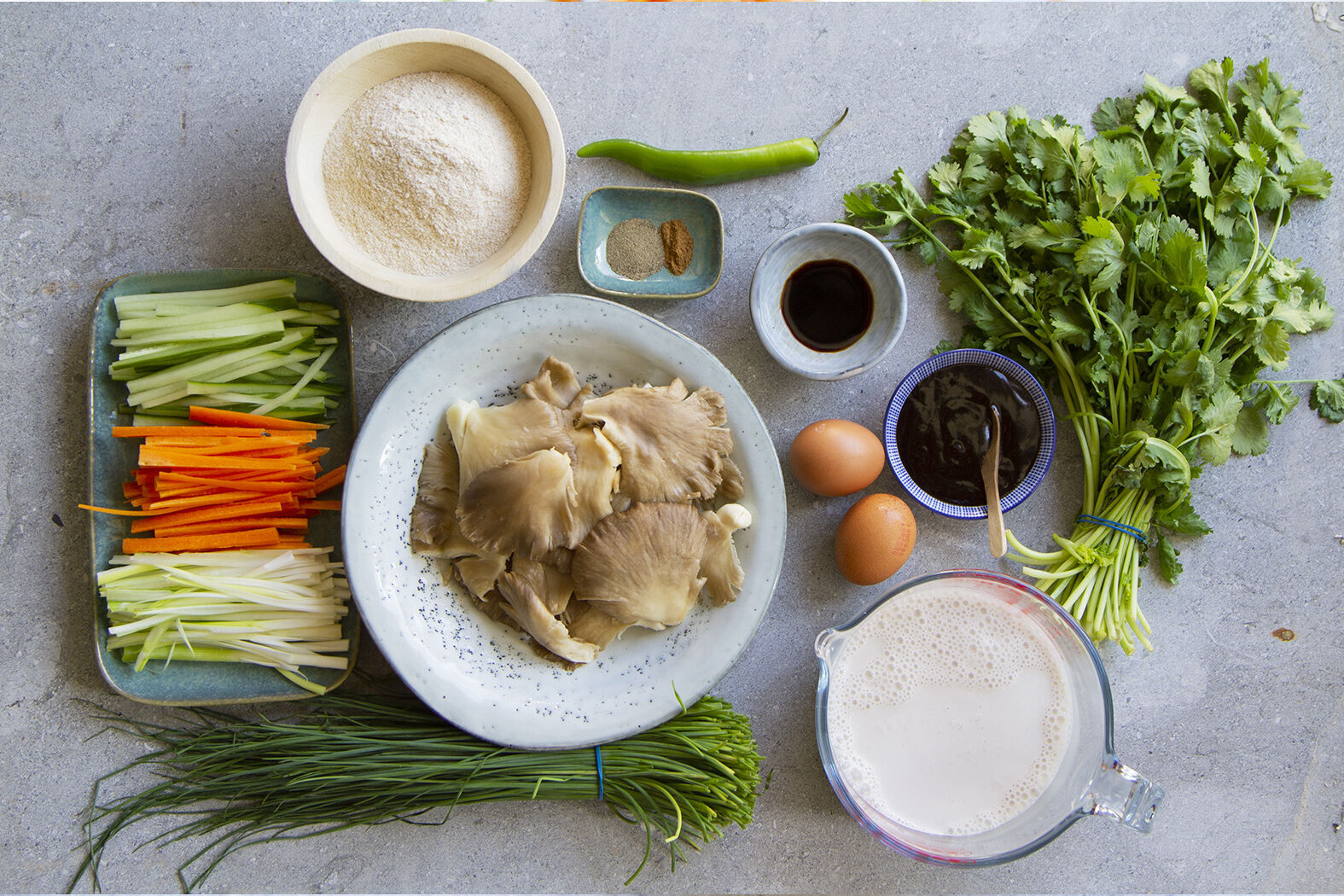 THE FILLING
400 gr oyster mushroom, in strips of 1 cm
1 tsp Chinese Five Spices powder
1 tsp ground black pepper
2 tbs soy sauce
Hoisin sauce
A bit of oil to bake in
1 large carrot, julienne cut in strips of 12 cm
3 spring onions, only the bottom white part, julienne cut in strips of 12 cm
1/3 cucumber, peeled, with seeds removed, and julienne cut in strips of 12 cm
GARNISH
Fresh coriander
Green pepper, cut in rings
Chives
EQUIPMENT
A blender to mix the batter
PREPARATION
Bake the pancakes in a little bit of oil.
Heat a non-stick frying pan over a high heat, add half a tablespoon of oil and pour in a thin layer of batter until it's about 15 cm in diameter. You can also round out the batter with the convex side of a spoon.
Bake on both sides until you have a nice golden-brown pancake. Continue until you have 12 pancakes.
Bake the strips of oyster mushroom in some olive oil, seasoned with the Chinese 5 herbs powder, black pepper and soy sauce, for about 5 minutes until they are slightly crispy.
Spread a tablespoon of hoisin sauce across a pancake and place some oyster mushrooms on top. Add some carrot, cucumber, spring onion, coriander and green pepper (as much as you like) for garnishing and you are done! Enjoy!