You've got your skincare routine down to a T, you're eating healthy and drinking plenty of water, but what are you doing for the skin on your body? Let's take a look at what you can be doing to love and care for your body from head to toe.
HOW TO BUILD A BODY CARE ROUTINE
Cleanse with foaming shower gel
Clean skin is one of the most important parts of caring for yourself. Like the first step in a proper skincare routine, you need a clean canvas in order for all those lovely body products to work their magic on your skin. Dirt, sweat, perfume, lotion, sunscreen, all need to be cleaned off of the skin.
Exfoliate
There's no better way to give your skin a fresh and radiant glow than by exfoliating it properly. And no wonder – it literally removes dead skin cells to make room for new ones. But, with near-endless scrub options, which type is right for you? Our new body scrubs contain salt, sugar or mild exfoliating particles, as well as potent and special ingredients to benefit the skin. Check out our scrub school article to discover which body scrub works best for your skin type.
Dry Brushing
Dry brushing, or garshana (a traditional Ayurvedic dry massage), is another wonderful technique you can use to take care of your body. It does a lot of good things for you like exfoliating and conditioning the body by sweeping away potentially pore-clogging dead cells and boosting circulation. Your skin will look smoother, clearer and more radiant. Most importantly, dry brushing stimulates the lymphatic system to help it more effectively flush unwanted toxins from the body.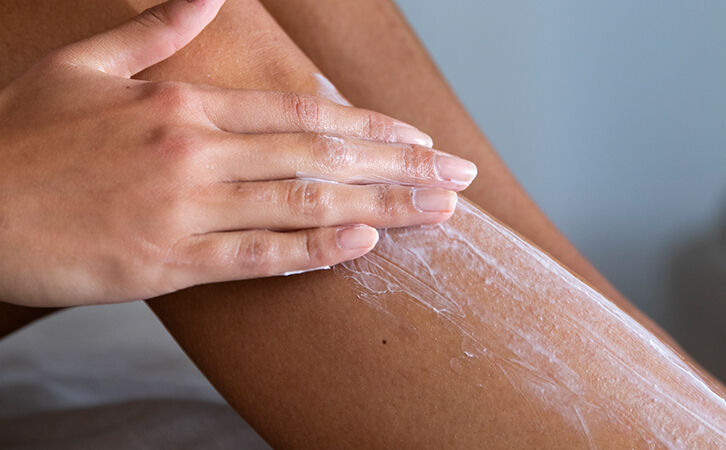 Moisturise
After cleansing and exfoliating, the best thing you can do is slather on a rich body cream while your skin is still damp, as this will help lock in that moisture. Fun fact: The Ritual of Namaste body cream is the first to incorporate a well-known ingredient for skincare cosmetics into its formula, namely hyaluronic acid. Full of skin-saving ingredients, this innovative body cream will make your skin feel like a dream and enhance your skin's texture and tone.
If you're feeling a bit lazy (don't we all, sometimes), you can opt for more nourishing in-shower cleanser like a rich shower oil to effectively clean and hydrate the body in one go. Still, I would recommend making the time to apply a body cream or dry body oil to every inch of you. Paying true attention to each step of a carefully chosen body care routine will have a much more profound effect than blindly going through the motions. It is the difference between a mindless routine and a soulful one that creates a radiant reflection worthy of you and your body.
Glow it up with self-tan
Sometimes a little glow-up can make a world of difference to how we're feeling. While making you feel like you just got back from a relaxing holiday, it's almost like the world seems a little brighter, the birds seem a little chirpier and people seem to smile more when you're rocking a subtle, radiant tan.
Okay, I'll dial back the Hallmark rant a little…In my experience, at least, going a little further with a tanning body lotion on a night out or a fun day out with friends is just the cherry on top that I needed.