This summer, Rituals is focusing on kindness. Kindness for yourself, for others and for the world around you. One way to be kind to yourself is with feel-good food. Now, that doesn't mean junk food (although a treat every now and again does us all good!) but tasty food that is nutritious and feeds your soul just as much as it does your body. With that in mind, sit down, unwind, and enjoy this delicious, comforting meal. The spicy tempeh burger is perfect for a Friday feel-good food night!
FEEL GOOD SPICY TEMPEH BURGER
Recipe for 4 persons
Preparation time: 15 min
INGREDIENTS
4 burger buns
200 gr tempeh
1 clove garlic
1 tbsp ginger
1 red pepper
2 bunches spring onions
15 gr buckwheat flour
120 gr panko
¼ pointed cabbage
1 tbsp sriracha
5 tbsp kewpie mayonnaise
Crispy onions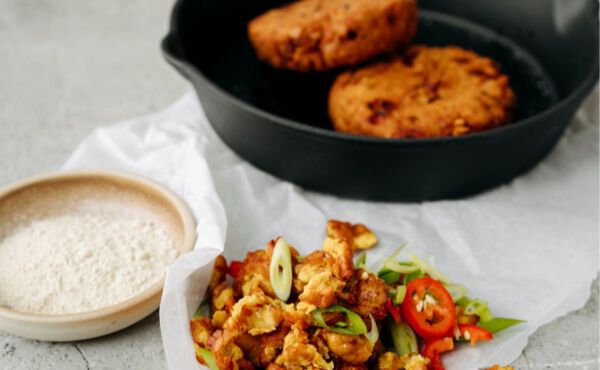 PREPARATIONS
Slice the tempeh in to cubes approximately 2cm by 1 cm.
Heat a splash of oil in a pan then fry the tempeh until it's golden and crispy.
Add the crushed garlic, sliced red pepper and the crushed ginger.
Fry it for 3-4 minutes, then let it cool.
Crumb the tempeh with your fingers to get a mince-like texture.
Add the finely chopped spring onions, the panko and the buckwheat flower to the tempeh mixture in a bowl and mix together with a spoon.
Shape into patties (if the mixture doesn't stick, just add a splash of water) and set to cool.
Cut the pointed cabbage in 4 lengthwise, then finely slice it. Set in a bowl with a good pinch of salt.
Add the mayonnaise and sriracha to the cabbage and finish with the crispy onions.
Bake the tempeh burger in a pan until it's nice and crispy. Then finish the burgers in the oven on 180°C for 10 min.
Cut the buns in half and slightly toast them in the pan.
PLATING
Lay down the bottom of the bun, top it with the cabbage, then the burgers. Add some sriracha on top for a spicy kick.
Finish it with the top of the bun.
Bon Appetit!!
This summer, invite kindness into your life, share it with others and discover how to treat the world with kindness too. Visit our Kindness Community page and explore a wealth of content that will inspire positivity and good vibes for yourself, others and the world.