Our lives are infused with colour. Not only does it make the world a lot happier, colour has a powerful effect on our bodies, our minds and our mood. Colours are so intertwined with our mindsets, that we even express our feelings with them: "green with envy", "having the blues", "things being black and white", "seeing life through rose-tinted glasses" It is therefore no surprise that with Chromatherapy, better known as colour therapy, we can restore our disturbed energy balance and remedy both mental and physical complaints. Discover the power of colour, come into harmony with yourself and enjoy a balanced life.

Colour restores your energy
Colour therapists swear by it: we need colour in our lives to feel physically and mentally happy and healthy. In 1920, American physician Harry Riley Spitler discovered that colours had a positive effect on his patients. Through exposure to a colour palette the physical self-healing process was stimulated and ailments such as insomnia, winter depression, asthma and concentration disorders were treated. Depending on the complaint, a particular colour is used in chromatherapy, as each colour has a different positive impact.
The power of colour
In Eastern culture, many believe that chakras are related to colours and that they can affect the health of a particular organ or part of the body. Discover what effect the following 5 colours have on your well-being:
Blue
One of the most common colours which affects our day-to-day routines, is blue light. We have special receptors in our eyes which react directly to this colour, telling the brain that it's daytime and we need to be awake. When exposed at the correct time, blue light can boost our productivity at work, cure winter depressions, reset our biological clock and reduce tiredness during the day. In Buddhism, blue represents wisdom and intelligence. Blue is also known for creating a sense of trust and security.
Orange
This warm colour symbolises social communication, cheerfulness, power, energy, creativity and optimism. For Buddhists, it is the colour of the rising sun and spiritual awakening. Orange is associated with movement and progress on an emotional, a spiritual and even a physical level since it is said to give your brain a boost. Orange makes you want to be there! A colour with the power to create new things.
Yellow
Yellow stands for cheerfulness, exuberance and willpower - these are the typical characteristics of this colour. It has a long wavelength, which we feel especially on an emotional level: yellow gives you the strength to shine and helps you to concentrate. And just as the yellow sun is central to our solar system, this colour gives you the courage to put yourself in the centre of attention.
Green
Green represents growth and positive energy. It is the colour of the heart (yes, really), and connection, and it represents Mother Nature. Green falls exactly in the middle of the colour spectrum and therefore helps you to achieve harmony and balance. Green allows you to turn inwards, to find the balance in yourself again and from there connect with the outside world.
Red
Red is the colour of passion, power, fire and physical energy. The colour is so powerful because red has the longest wavelength of all colours. Spiritually, the colour symbolises being present in the moment, and saying yes to life. And that is actually not so strange when you think of the blood that flows through your veins and provides every cell with energy. According to Jean-Gabriel Causse, a French colour expert, you should even wear red sportswear when you could use the extra motivation to get yourself off the couch.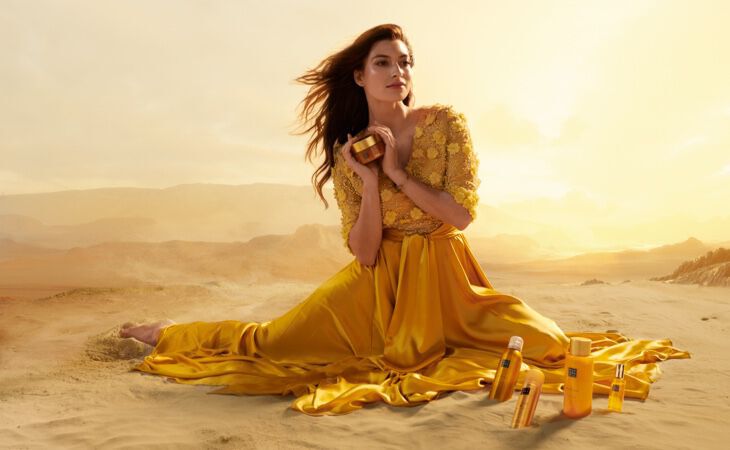 Sweat yourself happy with colour
The positive effects of colour are not only used in alternative medicine, yoga studios and saunas have also discovered the power of colour. Glow Bar in London, for example, has four infrared 'pods' where the light can be adjusted to stimulate a particular emotion. Infrared saunas work very differently to traditional saunas with high temperatures and humidity. Due to the lower temperature, you can enjoy up to 45 minutes in an infrared pod, while your body slowly warms up from the inside. The combination of an intense sweat session and a colourful mood boosting light ensures that both your mood and your skin will glow!
We spoke to Sasha Sabapathy, founder of the Glow Bar London, about the power of chromatherapy and the effect of different colours. Which colour triggers happiness, calmness or concentration? ''Chromatherapy really does work. It's a free optional extra with our sauna sessions and almost everyone chooses it. Purple is the colour for happiness, calm and focus. This is because it helps to activate the crown chakra, where our mental and emotional energy is harnessed. Blue is used to facilitate sleep and relaxation and yellow can help with skin conditions such as psoriasis and dermatitis. We get a lot of clients come in specifically to use the yellow for skin problems. My personal favourite colour is blue, as I have a lot of sleep issues.''
Downward facing dog in red
Do you prefer to be active and mindful while balancing your energy with colour? Then Chroma Yoga is the thing for you. This new form of yoga combines the power of colour with yoga poses to positively influence your mindset with specific light frequencies. The classes focus on restoring your emotional balance by exposing you to the colour you need at that moment. The series of poses are aligned with the healing effects of colour, so that they reinforce each other to the max. Have you booked a 'red' class? Then get ready for a powerful series of poses that will challenge your flexibility and increase your blood circulation, metabolism and mood. Suffering from mood swings? Then they recommend the 'yellow' class where your breathing is connected to many open poses that lighten your digestion and mood. Extra benefit: yellow light stimulates a good night's sleep, making this the ideal class to attend before going to bed.
The Ritual of Mehr: a golden touch
Now that we've taken you into the wonderful world of colour, you may have noticed that our products are not only inspired by ceremonies, but are also linked to colours. The fact that The Ritual of Mehr, our newest collection, comes in shimmering gold packaging is no coincidence, as this line is inspired by Mehr, the sun. The Ritual of Mehr boosts your mood, energises your soul and supports you in the daily fast pace. The collection celebrates and honours the joy that comes from the bright, clear energy of the sun and helps you carry that vitality into your life. See your heart as the sun of your soul and let its bright energy warm you from within. This refined collection breathes sunshine and joy and that is exactly what the colour gold does to you: it embraces your inner love and makes you transfer it to others like a ray of sunshine!