Eating yourself to a great nights' sleep sounds like a dream. What if we tell you that you can make this dream come true? Studies show that eating less fibre, more saturated fat and more sugar causes lighter, less restorative, and more disrupted sleep. But, using the power of plants in your weekly menu will turn this around. Here we reveal hands-on insights to help you feel energised during the day and to sleep better at night. Treat them as reminders to help you with adapting a healthy lifestyle and give our 3-day meal plan a try, so you can start grocery shopping for a good night's sleep right away.
A plant-based diet for a good night's sleep
We all know drinking an after-dinner espresso won't help you drift off, and that your sleep is deeper when you drink water instead of wine before stepping into bed, but evidence suggests that your diet may play a role, too. Diets that are rich in fibre and low in saturated fat can lead to deeper, more restorative sleep. The main reason to choose a plant-based diet is the presence of serotonin, tryptophan and melatonin, essential elements of good sleep that are found in many vegan foods.
For an added boost of melatonin (known as the 'sleep hormone') eat fruits and vegetable such as kiwis, spinach, tomatoes, lettuce, avocados, bananas, sour cherries and red grapes. This hormone helps your body to regulate the circadian rhythm and promote healthy sleep. Also, consider nuts, rice and fatty fish as your best friends when it comes to feeling well-rested. Researchers believe that fatty fish may help sleep by providing a healthy dose of vitamin D and omega-3 fatty acids, that are involved in the body's regulation of serotonin. Serotonin is the key hormone that stabilises our mood, feelings of well-being, happiness, and – you guessed it – sleep.
This hormone impacts your entire body. It enables brain cells and other nervous system cells to communicate with each other. When we're talking about almonds, walnuts, pistachios, and cashews, you can go literally nuts eating them. These little crunchy fellows contain melatonin, as well as essential minerals like magnesium and zinc that aid a range of bodily processes including sleep.
Feel awake with proteins
Did you enjoy a cheat dinner last night, and are you suffering from afternoon sleepiness? Instead of reaching for the nearest sugary treat, opt for a protein-rich snack instead, say experts, because contrary to popular belief, protein stimulates the mind more than sugar. Eating protein raises the levels of another amino acid called tyrosine, that prompts the brain to manufacture norepinephrine and dopamine, other kinds of chemical messengers in the brain. Not as well-known as serotonin, norepinephrine and dopamine can keep you energised because they promote alertness and activity.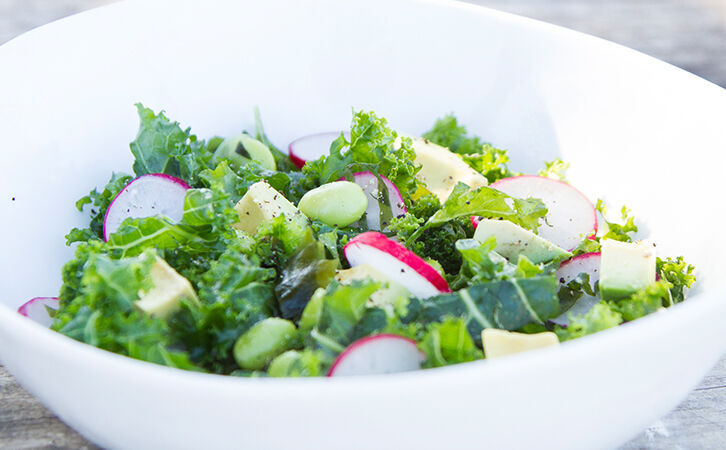 To help you out with how to eat for energy, keeping a plant-based diet on top of mind, we listed some of the key ingredients. When you enter the supermarket, take a sprint to the soybeans right away. A cup of cooked soybeans provides 28 grams of protein, roughly the same amount as that can be found in 150 grams of chicken. Also grab lentils, cottage cheese, pumpkin seeds and Greek yogurt on the go.
Complex carbs in the evening
Eating complex carbs in the evening keeps you fuller for a longer period of time. Huge plus: they trigger the sleep hormone. So, building your dinner around starchy foods, like pasta, beans, quinoa, rice, and potatoes, will help you doze off and stay asleep through the night.
3-day meal plan
Now you've learned more about when eating what, we created a finger licking plant-based meal plan to get you started. Renaud Goigoux, chef of Restaurant Rouhi in House of Rituals and food expert Mirjam Leslie-Pringle created delicious plates, that you can serve within a blink of an eye.
DAY 1
Breakfast: Energising overnight oats that will set you up for the day
Lunch: A citrusy Japanese salmon and noodle bowl
Dinner: A spicy Thai peanut salad
DAY 2
Breakfast: Breakfast bowl with oatmeal and strawberries
Lunch: Refreshing beetroot, wasabi and coconut gazpacho
Dinner: Soul-soothing and grounding Indian dahl
DAY 3
Breakfast: Raspberry smoothie bowl with chia seeds
Lunch: A skin-beautifying Japanese salad with kale and wakame
Dinner: Baked cauliflower rice with tempeh
We are curious, do you feel a difference after three days? For everyone who is convinced of the health benefits of a plant-based diet, we have a bonus for you in store. Try our mung bean salad, fennel and cucumber soup with mackerel, or open smoked turkey sandwich.