Get a hydrated and glowing complexion with our expert tips for treating dry skin on your face
Want to get rid of dry skin on your face? We hear you. For so many, dry skin is something you deal with year-round not just during the seasonal dip when the colder temperatures and dropping humidity outside, paired with the rising central heating inside, can cause your skin to crave hydration. If you're looking to prevent or tackle dry skin on your face year-round or seasonally, you're in the right place. Here we reveal the seasonal switch-ups that will leave your complexion hydrated, supple and glowing.
Looking for hydrating tips for all over? Be sure to check out our guide to getting of dry skin on your body here.
TIP FOR A DRY FACE #1:

Get the blood flowing
Our faces have almost 20 muscles that facilitate our expressions and help us to talk and chew. By working these muscles, you can increase the blood flow delivering much-needed nutrients to your dry skin. Increased blood flow also supports collagen production, plumping a dull-looking complexion and delaying the appearance of fine lines. Follow along with our very own facial yoga video here.

TIP FOR A DRY FACE #

2:

Eat for hydrated skin

Those who suffer from skin conditions such as eczema, acne, and psoriasis often begin to see increased flare-ups during seasonal temperature fluctuations. This is because the skin barrier is disrupted, leading to inflammation and irritation. Incorporating foods packed with healthy fatty acids such as omega-3 will "reduce inflammation, increase hydration and help to reduce redness, itching, inflammation and scaling for those with psoriasis" says dermatologist, Marisa Kardos Garshick. Add two servings of fatty fish into your diet per week. Our citrusy salmon and noodle bowl is a highly nutritious Omega-3-rich dish. For a vegetarian Omega-packed treat, try our raspberry chia smoothie bowl.

And make the most of the season's harvest. Ritucharya is the term for eating seasonally in the ancient Indian practice of Ayurveda and science has proved that choosing vegetables in season just makes sense. One study found that the Vitamin C content of broccoli grown in its peak season had a far higher content than the broccoli harvested in spring. Look to a kaleidoscope of healthy ingredients - the more colourful the food, the more of a skin-nourishing punch of antioxidants they will contain. Pumpkins, cranberries, kale, red cabbage, apples, blackberries and butternut squash are just a few of the in-season autumn superfoods.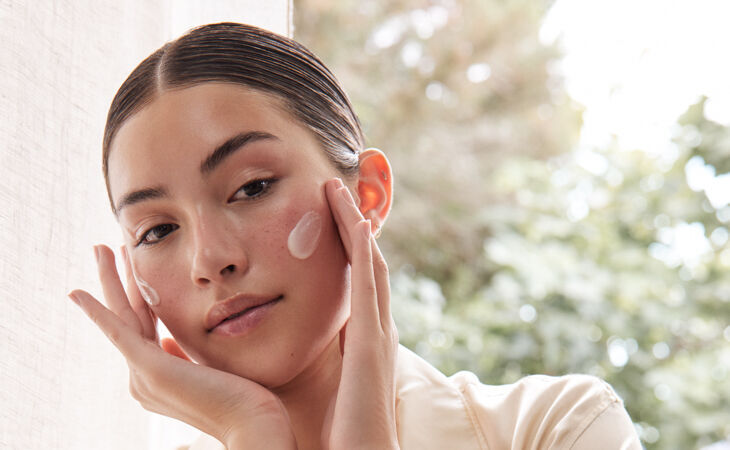 TIP FOR A DRY FACE #

3:

Turn down the heat

Washing your face morning and night with hot water is incredibly dehydrating, stripping your skin of its natural protective oils. Try to turn down the heat to a more tepid temperature, but if you really can't resist a hot cleanse, keep it short and choose a balm cleanser to give your skin that burst of protective moisture. 
TIP FOR A DRY FACE #

4:

Try magnesium for skin support
According to a recent study between 10-30% of the population is deficient in magnesium due to lack of sleep, stress and poor diet. And yet, magnesium is particularly efficient at regulating cellular regeneration and repair for our skin when damaged, especially by the colder weather. From magnesium drops and supplements to leafy greens (think kale and spinach) that are packed full of this mineral, there are now many ways you can subtly introduce it into your diet. Another effective way to reap the benefits is through the skin, up your intake with The Ritual of Jing magnesium bath crystals.
TIP FOR A DRY FACE #

5:

Don't forget your body
Okay, the skin from the neck down might be covered in cosy layers but that doesn't mean it should be neglected. The best body lotions are quick, effective and don't feel like a huge chore to use. The Ritual of Ayurveda body cream sinks in fast to replenish your moisture balance with its infusion of sweet almond oil. Plus, the formula supports the skin barrier, locking in moisture throughout the day.
TIP FOR A DRY FACE #

6

:

A glass of water for skin
Hyaluronic acid (HA) is your best friend when it comes to tackling skin dehydration. The molecule (that can hold 1000 times its weight in water) is naturally present in healthy, hydrated skin. If yours feels dehydrated, bolster your HA levels with skincare. Our Hyaluronic Acid Natural Booster can be applied to skin after cleansing. It sinks in and hydrates fast, like a tall glass of water. Be sure to apply a day or night cream afterwards to lock in that moisture for long-lasting hydration.
Prevent dry lips
At this time of year, start to factor in a once-a-week exfoliation moment for your lips. Our Fortune Balms sugar polish gently yet effectively sloughs away dry skin and also has the added benefit of shea butter to nourish and hydrate. Make sure to apply a nourishing and hydrating lip balm after exfoliating to extend the benefits. Our Fortune Balms come in clear or tinted options so you're guranteed to find one you love.