If your skin is a little lacklustre and you want to boost radiance from the inside out, look no further than this nutritious salad. The key ingredient is wakame, a brown seaweed, that is common in Japanese cooking. Wakame promotes good health in a variety of ways, including being a great source of calcium and iron. It's also rich in vitamins A, C, E and K, which are instrumental in maintaining beautiful skin. The kale in this salad is also a powerhouse of nutrients and antioxidants making it great for your body inside and out. Not to mention, it's incredibly tasty!
Recipe for 2-3 people
Preparation time: 15 minutes

Ingredients for salad
10 g dried wakame (let it soak in cold water for 10 min)
100 g kale
2 tbs olive oil
100 g radishes, thinly sliced
100 g edamame
1 avocado, cubed
Ingredients for soy-sambal vinaigrette
100 ml extra virgin olive oil
60 ml soy sauce
2 tsp Dijon mustard
2 tsp sambal
coarsely ground black pepper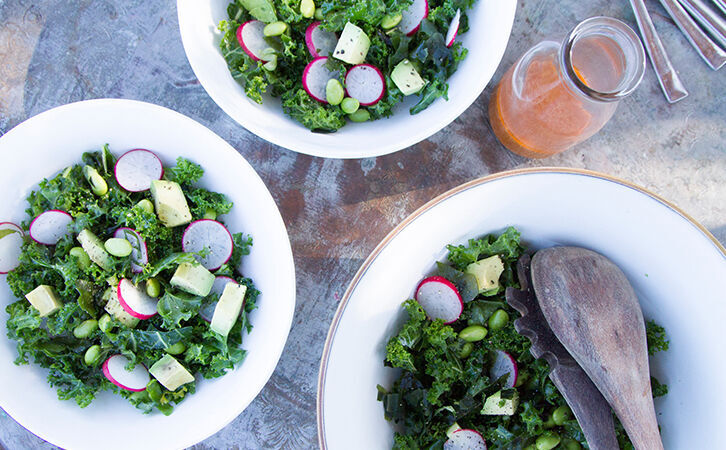 Preparation
1. Put 10 g of dried wakame in a bowl with cold water and let it soak for 10 minutes. This will become about 10 times as much. Then let it dry out or dab it dryer.
2. Used sliced kale or cut the leaves from the stalk yourself, discarding the harder parts. Massage 2 tsp of olive oil thoroughly into the kale until it becomes softer.
3. Cut the radishes into thin slices and distribute them evenly with the edamame on top of the kale. Cut the wakame smaller and spread it over the salad. Add cubes of avocado.
4. To prepare the vinaigrette, mix the extra virgin olive oil, soy sauce, mustard, sambal and pepper together in a tightly sealed container and shake it until it is well mixed. Serve this with the salad.